More than a quarter million participants of 300+ cities over the last 30 years from 42 countries worldwide including from India, USA, Canada, UK, Sweden, Germany, France, Switzerland, Ireland, Italy, Netherlands, Croatia, Macedonia, Romania, Kosovo, Barbados, Greece, Kenya, South Africa, Zimbabwe, Ghana, Botswana, Nigeria, Australia, Azerbaijan, Turkey, Egypt, UAE, Saudi Arabia, Oman, Qatar, Kuwait, Bahrain, Bangladesh, Nepal, Japan, Philippines, Indonesia, Brunei, Hong Kong, Singapore, Malaysia and other countries have attended and benefited from Nikhil Desai's programs with excellent feedback.
Nikhil graduated with an MBA from USA where he stood first in his university. Thereafter he worked in New York.
Started as an entrepreneur after returning to India and set up manufacturing facilities and industries in the textile and automobile sectors and grew from 1 business to 8 businesses in 8 years.
As a sportsman he played cricket with former Test and Ranji trophy players. He was also in the first ever cricket coaching series that was telecast all over India on Doordarshan — Cricket with Poly Umrigar.
In 1991 when India liberalized the economy Nikhil established The Centre For Excellence which was awarded as the HR & Training Company of the Year by the CEO Magazine.
Awards
Click on any of the awards below to view them.
Global Excellence In Corporate Training & Development Award at the Corporate Guru World Summit & Awards
"You Are An Inspiration Award" at the Ikon Awards 2021
HR & Training Company Of The Year by The CEO Magazine
HR Motivational Leader Award at the National HR India Leadership Awards 2021
Global Iconic Motivational Speaker Award at the Leadership & Excellence Awards 2021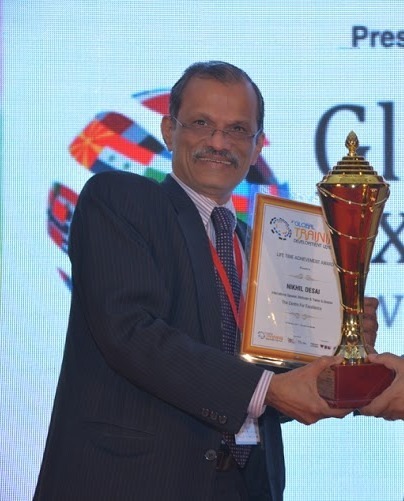 Life Time Achievement Award at the The World HRD Congress
Nikhil was featured in the special issue of The Human Factor on The Learning Panaroma -Industry Best Practices Revealed with other eminent icons worldwide.
Nikhil Desai is the only speaker & trainer in the world who has the combined strength of an MBA from U.S.A, business acumen through his own business enterprises, a qualified corporate yoga practitioner and has 30 years of experience in conducting motivational sessions and training programs.
This wealth of experience enables him to share rich ideas and experiences with the audiences during his sessions which are very interesting, interactive and impactful.
He has also appeared on Television & Radio in India, New York, California, Philippines, South Africa & Oman.
Nikhil Desai's flagship Program
Nikhil Desai's Other Popular Programs
Achieving Excellence Thru Stress Management®
Read more
Achieving Excellence At Work
All Types Of Motivational Programs
Delivering High Impact Presentations
Doubling Personal Productivity
Fun Ways Of Energizing The Body & Mind
Enhancing Effectiveness At Work
Excellence In Communication Skills
Excellence In Customer Care
How to Double Your Productivity When Working From Home
Manage Your Time, Master Your Stress, Energize Your Life!
Mastering Time Management
Oorja – For Leadership Excellence
Nikhil Desai's participants include executives of more than 2000 organizations including Abbott, ACC, ACG Worldwide, Aditya Birla Group, Airtel, Ambuja, Aon Global, Apollo Tyres, Asian Paints, Bank Muscat, Bank Sohar, Barclays Bank, BASF, Blue Dart, BNP Paribas, BSE, Cadbury, Cap Gemini, Castrol, Caterpillar, Cipla, Clariant, Deloitte, Deutsche Bank, DHL, Dow, Dr.Reddys, DSP Merrill Lynch, EY, Essar, Exim Bank, Fiserv, Fosters, GE, Godrej, Holcim, Hyatt, ICICI, Indoco Remedies, Infinti Retail, IPCA, ITC, ITD Cementation, Jindal, JK Cement, Johnson & Johnson, Kalyani Group, Kirloskar, Kone, Kotak, L&T, Levi Strauss, Lowe, Maersk, Mahindra, Motherson, Nestle, Novartis, NTT Data Global Centers, Oberoi Hotels, Omantel, Pepsico, Pfizer, Piramal Healthcare, PwC, Radio City, Ranbaxy, Reliance, Sandoz, SBI, Schiller, Sequent, Shell Gas, Siemens, Sigma Electric, Standard Chartered Bank, Sterlite, Sun Pharma, Synechron, Syntel , TCS, Tata, Torrent Power, TVS Group, Uflex, Ultratech, Unilever, UNO MINDA, UPS, USV, Vedanta, Victorinox, Voltas, Whirlpool, Wipro, Zydus Cadila & various other organizations.
Contact Details
The Centre For Excellence
The Centre For Excellence 9, Ali Chambers, 1st Floor, Tamarind Lane, Fort Mumbai - 400001 Maharashtra, India